Kitty Kat Construction is pleased to announce our newest addition to our growing line of budget prefab houses: The Lindsay" - Now available for L$ 599!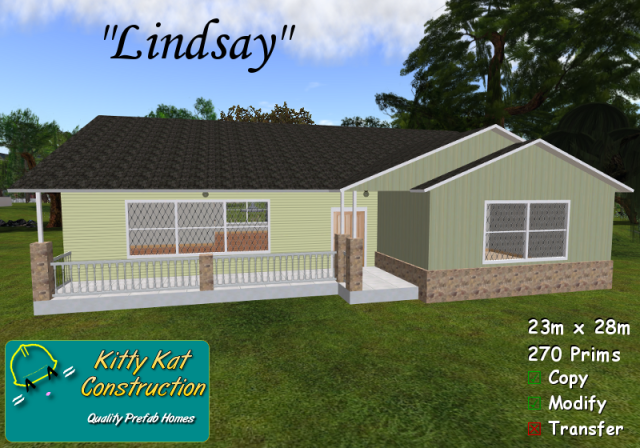 Wherever you choose to call home, "Lindsay" will fit in perfectly. Designed with a country influence, Lindsay is a single-story, 2-bedroom, 1-bathroom home that does not skimp on style. designed for large, scenic parcels. Lindsay features a semi-enclosed front sitting porch and a rear patio. The living and dining rooms enjoy extra spaciousness with their vaulted ceilings. Lindsay also features our Multi-Control Blinds system, which allows blinds to be either controlled locally by simply touching the window, or remotely through the central controller. This allows blinds to be adjusted individually, room-by-room, or all at once. Permission to adjust each blind can be granted to the owner, the owner's group, or to everyone through simple menus.
With a structural footprint of 23m x 28m, this house will fit on most 1024 sq.m or larger parcels. Pictured landscaping not included in package.
You can make "Lindsay" your home by visiting our store at
Kitty Kat Construction (Main Store) - Spring Dreams
or
Kitty Kat Construction (Satellite) at Lionheart Nuka
.